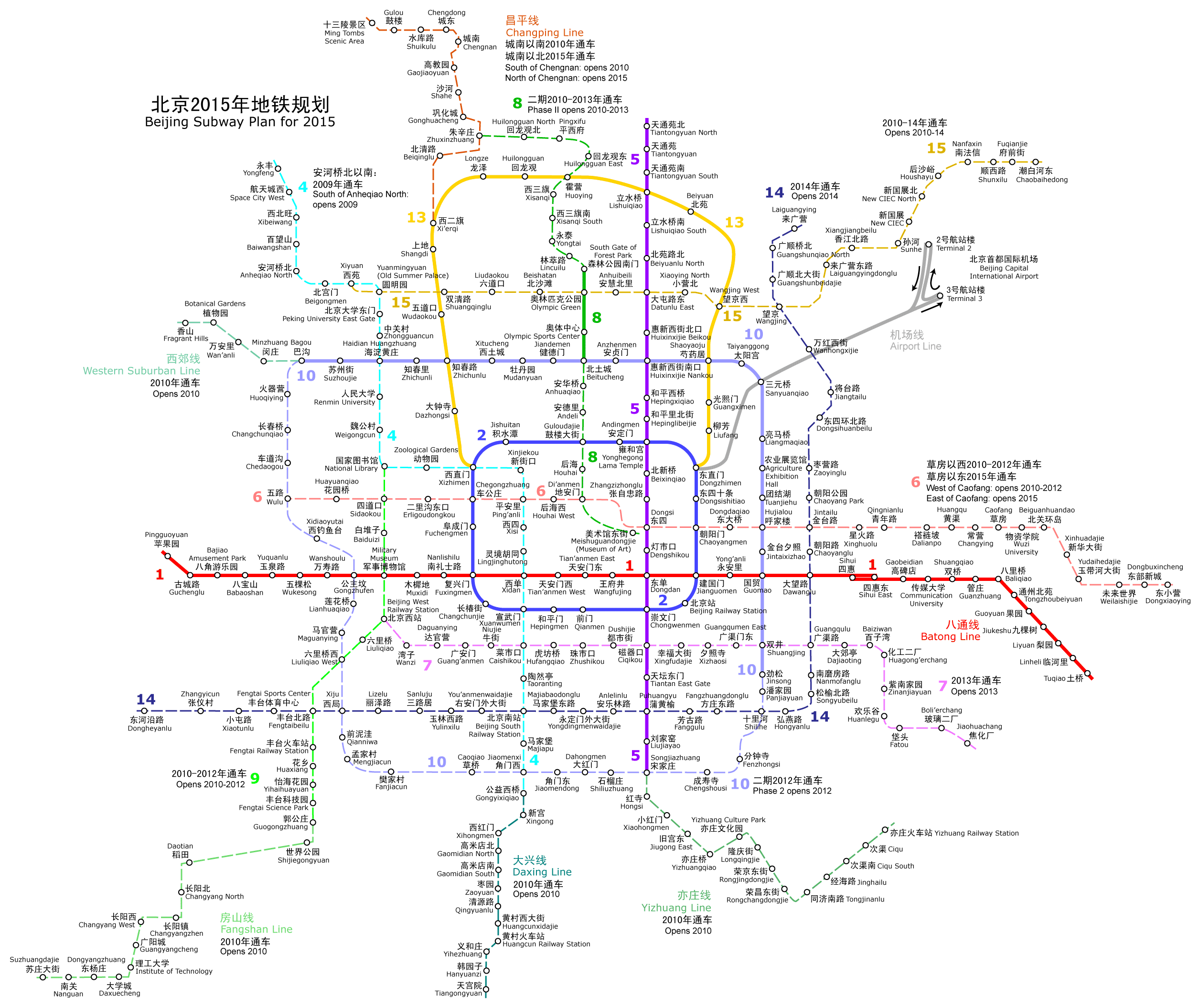 2012-2015 Beijing Subway Map New
A flat fare of RMB(¥) 2.00 with unlimited transfers applies to all lines except the Airport Express, which costs ¥25.00. Children less than 1.2m in height ride for free when accompanied by a paying adult.
All lines now collect fares through automatic fare collection (AFC) machines that accept single-ride tickets and the Beijing Yikatong, an integrated circuit card (ICC card) that can store credit for multiple rides, which can also be used increasingly as e-money. Riders can purchase tickets and add credit to Yikatong at ticket counters and vending machines in every station. Yikatong is also accepted on many city buses.
Line 1
Pingguoyuan - Gucheng - Bajiao Amusement Park - Babaoshan - Yuquanlu - Wukesong - Wanshoulu - Gongzhufen - Military Museum - Muxidi - Nanlishilu - Fuxingmen - Xidan - Tian'anmen West - Tian'anmen East - Wangfujing - Dongdan - Jianguomen - Yonganli - Guomao - Dawanglu - Sihui - Sihui East

Line 2
Xizhimen - Chegongzhuang - Fuchengmen - Fuxingmen - Changchunjie - Xuanwumen - Hepingmen - Qianmen - Chongwenmen - Beijing Railway Station - Jianguomen - Chaoyangmen - Dongsi Shitiao - Dongzhimen - Yonghegong Lama Temple - Andingmen - Guloudajie - Jishuitan - Xizhimen

Line 4
Anheqiao North - Beigongmen - Xiyuan - Yuanmingyuan Park - East Gate of Peking University - Zhongguancun - Haidian Huangzhuang - Renmin University - Weigongcun - National Library - Beijing Zoo - Xizhimen - Xinjiekou - Ping'anli - Xisi - Lingjing Hutong - Xidan - Xuanwumen - Caishikou - Taoranting - Beijing South Railway Station - Majiapu - Jiaomen West - Gongyixiqiao - Xingong - Xihongmen - Gaomidian North - Gaomidian South - Zaoyuan - Qingyuan Lu - Huangcun Xidajie - Huangcun Railway Station - Yihezhuang - Biomedical Base - Tiangongyuan

Line 5
Tiantongyuan North - Tiantongyuan - Tiantongyuan South - Lishuiqiao - Lishuiqiao South - Beiyuanlu North - Datunlu East - Huixinxijie Beikou - Huixinxijie Nankou - Hepingxiqiao - Hepinglibeijie - Yonghegong Lama Temple - Beixinqiao - Zhangzizhonglu - Dongsi - Dengshikou - Dongdan - Chongwenmen - Ciqikou - Tiantandongmen - Puhuangyu - Liujiayao - Songjiazhuang

Line 8
Beitucheng - Olympic Sports Center - Olympic Green - South Gate of Forest Park - Lincuiqiao - Yongtaizhuang - Xixiaokou - Yuxin - Huoying - Huilongguan Dongdajie

Line 9
Guogongzhuang - Fengtai Technology Park - Keyilu - Fengtainanlu - Qilizhuang - Liuliqiao - Liuliqiao East - Beijing West Railway Station

Line 10
Bagou - Suzhoujie - Haidian Huangzhuang - Zhichunli - Zhichunlu - Xitucheng - Mudanyuan - Jiandemen - Beitucheng - Anzhenmen - Huixinxijie Nankou - Shaoyaoju - Taiyanggong - Sanyuanqiao - Liangmaqiao - Agricultural Exhibition Center - Tuanjiehu - Hujialou - Jintaixizhao - Guomao - Shuangjing - Jinsong

Line 13
Xizhimen - Dazhongsi - Zhichunlu - Wudaokou - Shangdi - Xi'erqi - Longze - Huilongguan - Huoying - Lishuiqiao - Beiyuan - Wangjing West - Shaoyaoju - Guangximen - Liufang - Dongzhimen

Line 15
Wangjing West - Wangjing - Cuigezhuang - Maquanying - Sunhe - China International Exhibition Center - Hualikan - Houshayu - Nanfaxin - Shimen - Shunyi - Fengbo

Fangshan Line
Guogongzhuang - Dabaotai - Daotian - Changyang - Libafang - Guangyangcheng - Liangxiang University Town North - Liangxiang University Town - Liangxiang University Town West - Liangxiang Nanguan - Suzhuang

Yizhuang Line
Songjiazhuang - Xiaocun - Xiaohongmen - Jiugong - Yizhuangqiao - Yizhuang Culture Park - Wanyuanjie - Rongjingdongjie - Rongchangdongjie - Tongjinanlu - Jinghailu - Ciqu South - Ciqu

Changping Line
Xi'erqi - Life Sciences Park - Zhuxinzhuang - Gonghuacheng - Shahe - Shahe University Park - Nanshao

Airport Express
Dongzhimen - Sanyuanqiao - Beijing Capital Airport Terminal 3 - Beijing Capital Airport Terminal 2 - Sanyuanqiao - Dongzhimen

Batong Line
Sihui - Sihui East - Gaobeidian - Communication University of China - Shuangqiao - Guanzhuang - Baliqiao - Tongzhou Beiyuan - Guoyuan - Jiukeshu - Liyuan - Linheli - Tuqiao
Home Page|Rooms|Location|Beijing Embassies Area|Subway Map